The Law Office of Arthur Spiegel
Member of the Florida Bar since 1985
The Law Office of Arthur Spiegel, Esq., PA is a law firm focused on resolving all clients' legal issues by providing high level legal services without compromising integrity.
The law firm focuses on the legal areas of Traffic, Criminal Traffic, Criminal Defense, Civil Litigation, Corporate Services, Family Law and Probate.
2023 martindale-Hubell Award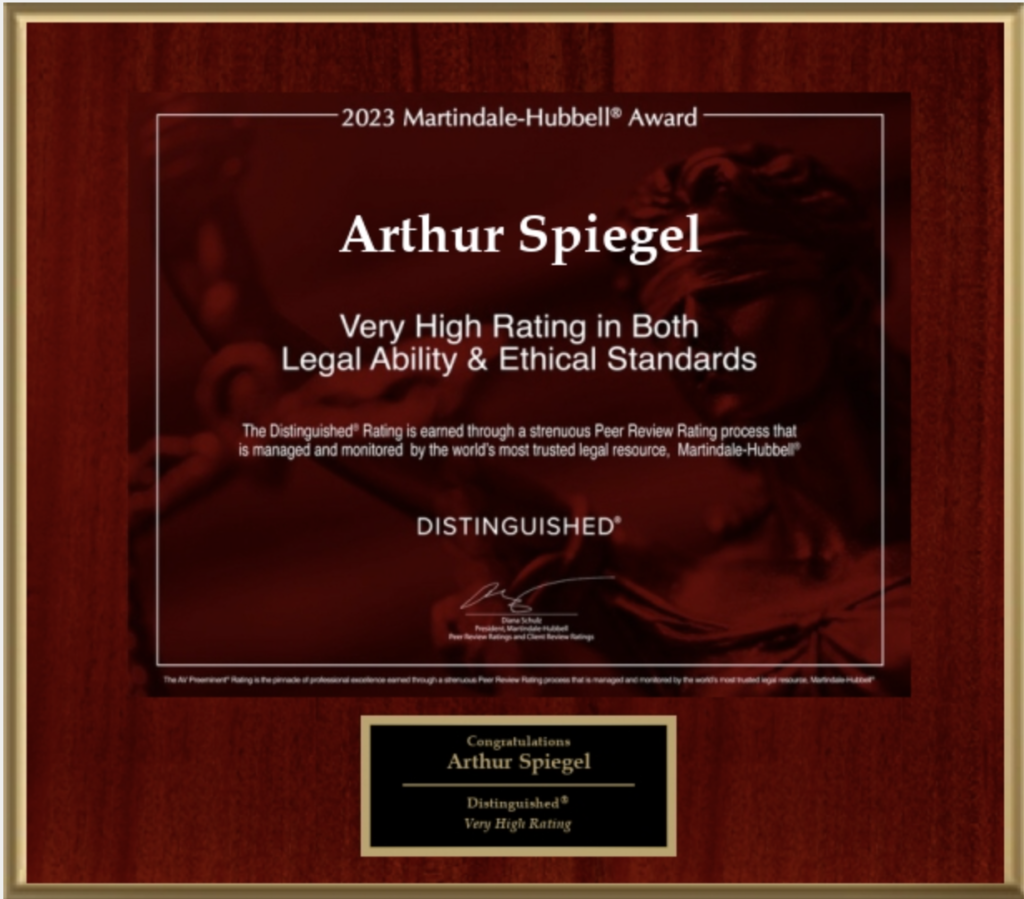 Our team has been studying law for almost 40 years. Not only are we highly educated with the area and people within the area that we serve, we focus on the rights of the people and have been pursuing honest, communication focused, high-quality law services for years. We can provide you with the law services that you need to give each and every person an equal shot with what they are enduring.
Straightforward
We are straightforward and upfront about all of the cases we work on.
Client Driven
Our goal is to make sure our clients are served to the highest quality. Our clients are our priority.
We Will Help You Every Step Of The Way
We are there from the beginning to the end of the process and beyond. You can rely on us to help you as much as possible. We do whatever it takes to succeed.
learn about all of your legal issues
Pair you up with the Perfect Attorney for you
we will assist you in any issue and conflict
Learn about the services we offer and the types of cases we handle.
My case was a complex one and Mr. Spiegel provided me with a course of action that led to a favorable outcome!. He is clearly knowledgeable and experienced but he is also very prompt. He is always available to answer questions via email, Zoom, Skype or phone. I could honestly say I do not know where I would be without him; he was a blessing in this rough time. I highly recommend him
Val S.
It's not very often that you meet a lawyer who truly cares about your case and feels for his clients. That lawyer is Arthur Spiegel. He handled my case along with attorney Albert Quirantes in a very professional and caring manner. He is my shield and did not let me down. He is smart, efficient and a tiger in court.
Mer B.
Professional Service and great advice. He was honest (a rare quality in lawyers nowadays). He took the time to examine the case and figure out the best solution. I've been to other law firms where they have a one minute consultation session with you (that's ridiculous). By far, his the best. Highly recommend.
Silvia L.
Arthur Speigel was recommended by a friend & he was a pleasure to work with. Very patient explaining and answering questions. He makes you feel calm during a stressful process. We will continue to use his services and recommend him to anyone in need of assistance from a fabulous attorney.
Mari T.
Mr. Spegial has helped my family tremendously. He is such a good lawyer. He pays attention to detail, he's thorough, he's well acquainted with the people in his field, he's straight forward, he's fair, and most importantly he cares. I, 100% recommend him.
Alex S.
You Deserve One Of Our Best Lawyers
with almost 40 years of law experience